Your Boston Charter Bus Driver
As one of the country's most-visited tourist destinations, having all of your ducks in a row for group travel is a must. Booking a minibus or charter bus rental for a private group tour or an educational school trip in Boston is a safe, reliable, and comfortable way to travel. But who's going to operate your charter bus rental during your trip? With Boston Charter Bus Company, you'll have a professional charter bus driver. The cost of a Boston charter bus includes the service of a charter bus driver but there are a few things you should know before booking your trip.
Keep on reading to learn more about the drivers in the Boston Charter Bus Company network!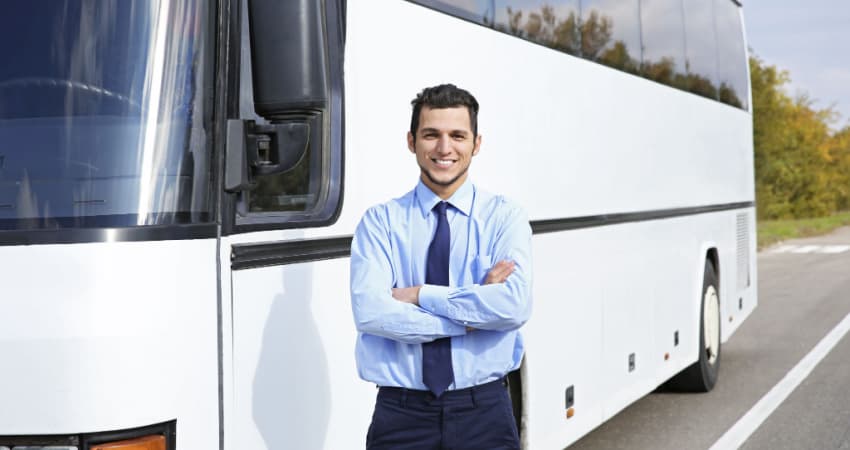 Your charter bus driver will be thoroughly qualified.
At Boston Charter Bus Company, we value safety above all else. This means we have a rigorous screening process for our transportation partners and drivers. To start, all divers are required to have a valid CDL license, with no exceptions. Just know that if you or one of your group members has a CDL license, you won't be allowed to drive your bus. Drivers must also be up to date on important industry training, pass a thorough background check, have a clean driving record, and pass crucial drug tests.
Your charter bus driver will be committed to your trip and schedule.
Booking with Boston Charter Bus Company means that you'll have a private group transportation service with a dedicated driver. Your driver will be working with your schedule and itinerary to ensure you have the best tour or event in Boston. If there are changes to your itinerary before your trip, a Boston Charter Bus Company expert can handle those changes. If there are changes during your trip, you can communicate your travel needs with your driver and they'll always do their best to accommodate.
Your charter bus driver will need to rest.
During long-distance trips to or from Boston, you'll need to think about rest and booking overnight accommodations. By federal law, charter bus drivers must rest at least 8 hours for every 10 hours of on-duty driving. Your group will need to book lodging arrangements for overnight trips and you'll have to include a room for your drive. Ensuring your driver is well-rested will help keep your group traveling safely throughout your Boston trip. If you're lodging overnight, you'll also need to think about parking for your charter bus. Large cities with heavy tourism usually have central parking hubs for oversized touring vehicles.
Your charter bus driver works hard.
Needless to say, charter bus drivers are committed to giving you the best quality service and that's hard work. After battling Boston traffic and safely shuttling your group around the city, tipping your driver would be a wonderful way to show your appreciation for their hard work. Tipping isn't necessary but it's always greatly appreciated. Your rental cost includes base pay for your driver but doesn't include optional tips. Standard charter bus tips can range from 5-15% of the total cost of your rental. The best way to tip your driver is with cash at the end of your trip.
Ride with Professionals at Boston Charter Bus Company
Do you have more questions about booking a Boston Charter bus or about your driver? Call the Boston Charter Bus Company team at 617-314-7577 with questions you may have. A helpful team member will address all of your concerns and even get you a free, personalized bus rental quote.
Do you need to rent a charter bus?