The Best Group Restaurants in Boston
Planning an impressive group gathering in Boston that needs an impressive menu to match? Boston Charter Bus Company can help you out. We're no strangers to traveling all around the Boston area for awesome group dinners on any occasion. From farm-to-table kitchens and whole sucking pig roasts to waterfront seafood and family-style Italian, we know all the best group restaurants in Boston for weddings, birthday parties, corporate events, and any occasion requiring fantastic finger foods and tasty drinks.
And since we're used to transporting groups as small as 20 in a minibus or as large as 50 in a motorcoach, we can bring you to the dining rooms that are best for your group type and size. There's something for everyone and every occasion in this city, so read on to find out your best fit, then give us a call at 617-314-7577 to tell us all about your event!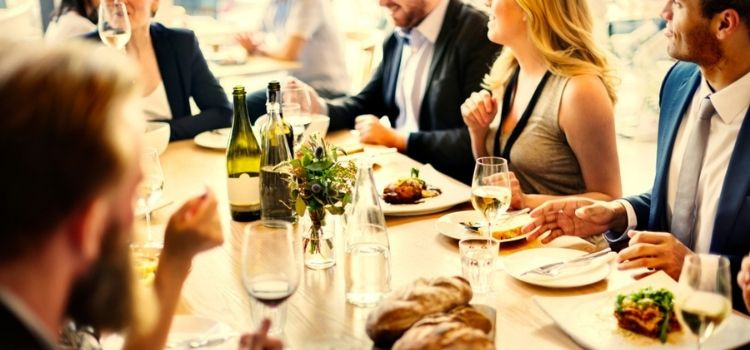 PAGU
Dine here with: a close-knit group of adventurous eaters in the mood to share a spit-roasted pig, massive one-pot paella, or Japanese/Spanish-fusion dishes and tapas.
PAGU is the definitive place to go in the Boston area for sharing a meal made with bold flavors and innovative fusion. It's best to gather here for PAGU's special group-dining options, like a whole suckling pig roast for at least 10 folks, or a large paella party for anywhere between 10 and 100 of your closest friends.
For a large private event like a wedding reception or corporate dinner, PAGU also offers the option to customize a four-course prix-fixe menu or family-style four-course tasting menu. This is a great choice for diners who want to dig into the dishes this kitchen does best, like spicy hand-pulled biang biang noodles, squid ink unagi bao buns, koji-marinated ribeye steak, and Guchi's Midnight Ramen.
When it comes to atmosphere, PAGU's best event spaces are perfect for a small, intimate dinner or a celebratory gathering. Your options include:
A Private Dining Room that can be fully enclosed with elegant, sliding translucent walls. It can fit 20 people for dinner or 35 for a standing reception, and includes a TV and sound system for presentations.
The Mezzanine for a dinner of 20 or standing reception for 35 (includes TV and sound system).
El Centro, a central communal gathering space that fits 34 seated (or 50 standing).
The Main Dining Room for 40 people.
Combining the main dining room and private dining room for a 50-guest dinner (or 80 standing reception).
The large outdoor patio, perfect for smoky summer pig roasts for 80 seated folks (or a reception of passed plates for 120 guests).
A full restaurant buyout for up to 150 people (174 standing)
Address: 310 Massachusetts Ave, Cambridge, MA 02139
Phone: (617) 945-9290
ReelHouse
Dine here with: seafood-obsessed Bostonians (especially oyster-slurpers and clam chowder connoisseurs) who can't get enough harborside pictures of the city skyline for their Instagram feeds.
Head over to the waterfront in East Boston to enjoy a dinner party featuring a menu full of fresh seafood and American dishes in a medley of international flavors. We're talking clam and corn chowder topped with smoked bacon, grilled flat iron steak in a Louisiana BBQ sauce, and classic lobster rolls alongside shareables like a pot of white-wine-steamed mussels with lemongrass butter and Malaysian-style chicken wings.
If you're here to party with a salty bunch of seafood lovers who really deserve a treat, order your table a Grand Shellfish Tower full of oysters, shrimp cocktail, littleneck clams, ceviche, and lobster.
ReelHouse offers private and semi-private group dining options for parties both large and small. A small gathering—like for a birthday party or corporate team outing of 16 people or less—can reserve a long, wooden communal table with panoramic views of the harbor and Boston city skyline for dinner. Larger groups, like for a big graduation party or family reunion, can enjoy booking the outdoor waterfront patio for 40-175 people, or the inside dining room for 40-150 people.
Address: 6 New St, Boston, MA 02128
Phone: (617) 895-4075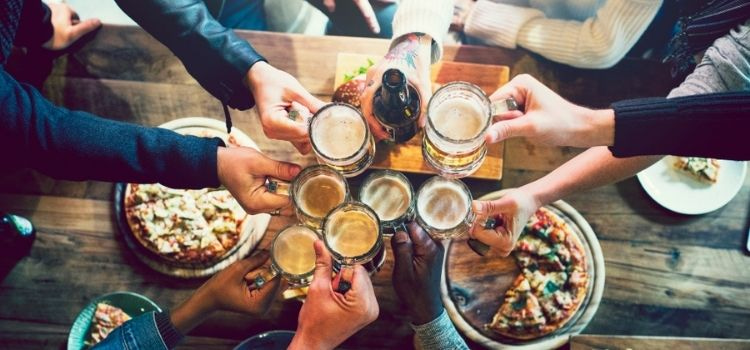 Trillium Fort Point
Dine here with: Beer snobs and cicerones who love Trillium's one-of-a-kind brews, and want to taste what their local farm-to-table kitchen is dishing out.
Also one of Boston's best breweries, Trillium has a full kitchen serving up New England comfort food in Boston's bustling seaport district, Fort Port.
Trillium's flavors and philosophy is (literally) rooted in a farmhouse-inspired experience, meaning they focus on creating food and beer from homegrown agriculture at the Trillium Farm in North Stonington, Connecticut, and from a partner network of local New England vendors.
When you book a private event here, you can customize your dining menu. Trillium's menu is typically loaded with hearty, versatile mains like a grain bowl topped with roasted root veggies, goat cheese and pumpkin vinaigrette, and cheddar mac and cheese with the option to add lobster, brisket, duck confit, or crispy chicken. And don't miss out on their mouth-watering shareables, like poutine topped with Vermont cheese curds, and curry eggplant dip.
At Trillium Brewing in Fort Point, you can choose from various private event spaces:
Two private dining rooms, with one larger than the other, for parties of 30-35 guests and 48-65 guests.
The semi-private taproom option for up to 25 guests who can enjoy full access to the bar and multiple tables for mingling in a sectioned-off area.
A full dining room buyout that can fit a seated dinner for up to 80 guests.
Roof deck with private bar and Seaport views, available for semi and full buyouts.
TABLE
Dine here with: up to 32 curious diners and foodies who love (a.) Italian food so good it will change their life, (b.) family-style communal dining where you need to pass the plates and (c.) prix-fixe seven course menu experiences.
One of the best restaurants in Boston's North End neighborhood also offers one of the most perfect group dining experiences in the city. As a one-room restaurant with two long, communal wooden dining tables and a 32-person capacity, TABLE is great for an intimate group gathering in a space that feels like the family dining room had a modern-rustic facelift.
The seven-course menu changes seasonally to feature a family-style Italian meal beginning with an app and salad all the way through to mains and a dessert. You can enjoy dishes like a pan-seared zucchini and artichoke cake topped with mint and lemon yogurt, seared octopus served on parmesan polenta, a mid-meal palette cleanser of fruit sorbet, and rich, meaty mains like veal meatballs and homemade short rib ravioli.
It's important to note that the menu at TABLE is strictly prix-fixe for seven courses, and what you see is what you get. They are unable to accommodate vegetarian, pescatarian, gluten-free or dairy-free diets. Please review the menu on their website before booking to ensure it features meals all of your guests will enjoy! Also note that the entire restaurant is a 32-seat communal dining room, so when you book a private party, you're booking each seat at $98 a head.
Address: 445 Hanover St, Boston, MA 02113
Phone: (857) 250-4286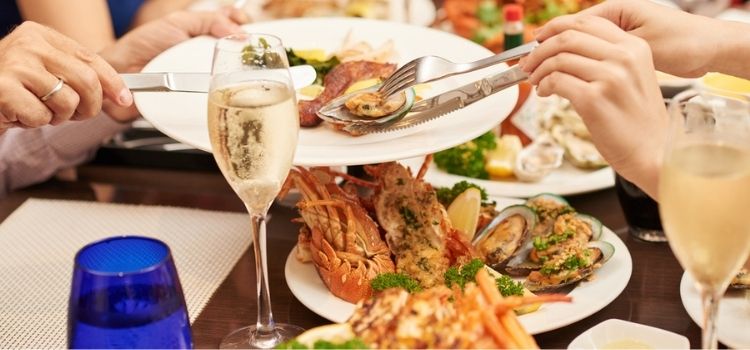 Commonwealth
Dine here with: a massive party of foodies who want to nosh on a medley of delicious hors d'oeuvres in an atmospherically-unmatched Boston event space.
A popular spot for wedding receptions and large private gatherings, Commonwealth restaurant in Cambridge is the place to go for New American eats with refined flavors. Plan an event here to spoil your guests with an indulgent, family-style prix-fixe party menu filled with dishes like Giuseppe's burrata, seasonal catch/shellfish, and roasted chicken in a house BBQ sauce. And don't forget to pile on mouth-watering sides like farro risotto mixed with roasted squash, broccoli rabe, pickled peppers and parmesan, and duck fat fries served with duck fat aioli for dipping.
But it's the hors d'oeuvres list here that really sings with options like a raw bar of local oysters and Chef's choice ceviche, or local cheese and charcuterie boards made with meats and cheeses also found for sale in the Commonwealth restaurant's market. For a large reception, choose from passed platters that will really leave an impression at your event. Guests will go crazy for finger foods like lobster bites with spicy aioli, prosciutto-wrapped fruit, goat cheese-stuffed cherry peppers, crispy polenta bites, and "Notorious P.I.G Blankets" to dip in a smoked secret sauce.
For a private event space, you have a lot to choose from. At the Commonwealth, you can reserve:
The Private Dining Room, which can seat up to 30 guests for dinner, and comes with a 75'' TV for presentations.
Commonwealth's Market, where up to 100 guests can enjoy charcuterie and bites in the restaurant's trendy, refined-rustic marketplace.
The Main Dining Room, which can seat up to 80 people.
A full restaurant buy-out for up to 200 people.
Commonwealth is also part of the Watermark Residences building, so you can reserve Watermark Event Space and have your gathering catered by Commonwealth. Choose from:
The Fireplace Lounge, a cozy and casual space to mingle, and the Broad Canal Lounge, a quiet space with library-vibes for cocktails and finger foods—which can be booked separately for small groups of 30-to-40, or together for a reception of up to 75 people.
The Sky Deck on the 21st floor of Watermark West which features city skyline views, and is best during warmer months for groups up to 50 people.
The Roof Terrace Garden, a beautiful landscaped deck on the 2nd floor of the Watermark that can entertain up to 200 folks.
Address: 11 Broad Canal Way, Cambridge, MA 02142
Phone (Catering & Events): (617) 945-7240
Pier 6
Dine here with: the same crew you took to ReelHouse who want a different view of the Boston skyline across the harbor and delicious New England-style seafood.
With staggering views of Boston's waterfront from the Charlestown Navy Yard, Pier 6 is the premiere place in this coastal New England city to gather and dine during the warmer months. You can plan an event here to enjoy an intimate seated dinner with sweeping harbor views in three different spaces:
The private dining room, featuring sweeping skyline views, which includes a long communal dining table for up to 12 guests seated. You can also host cocktail parties for up to 25 guests here.
The outdoor waterfront patio with a full bar for 40-200 guests.
The inside dining and bar area for parties of 40-125.
While special event packages and menus are available upon request, you'll likely get to have your fill of raw bar bites like oysters and scallop ceviche, as well as a manner of fresh seafood apps and entrees. Some menu highlights include Rhode Island-style fried calamari, blackened swordfish tacos, New England lobster roll, and pan-seared scallops with butternut squash risotto.
Address: 1 8th St, Charlestown, MA 02129
Phone: (617) 337-0054
Book a Charter Bus For Your Next Group Dinner
Whether you want to transport your work team all together from the office to a corporate lunch, ensure your wedding guests make it to the reception from the ceremony on time, or simply want to travel through Boston's traffic stress-free on your way to dinner, Boston Charter Bus Company has the group transportation for you. Give us a call at 617-314-7577 and tell us all about your group dinner plans in Boston. We'll provide you with a free, no-obligation quote for your charter bus trip to one of the best group restaurants in Boston!
Do you need to rent a charter bus?