A Group Guide to Boston Airports
Flying out of or into Boston? While arranging air travel in and around the city is relatively straightforward—there is only one airport within city limits, after all—navigating a busy airport with a large group of flyers can be tedious and tiresome if you don't know what to expect.
Luckily, we at Boston Charter Bus Company know the ins and outs of traveling throughout Boston—so we drafted this handy guide to make your flights in the Boston area as easy as possible: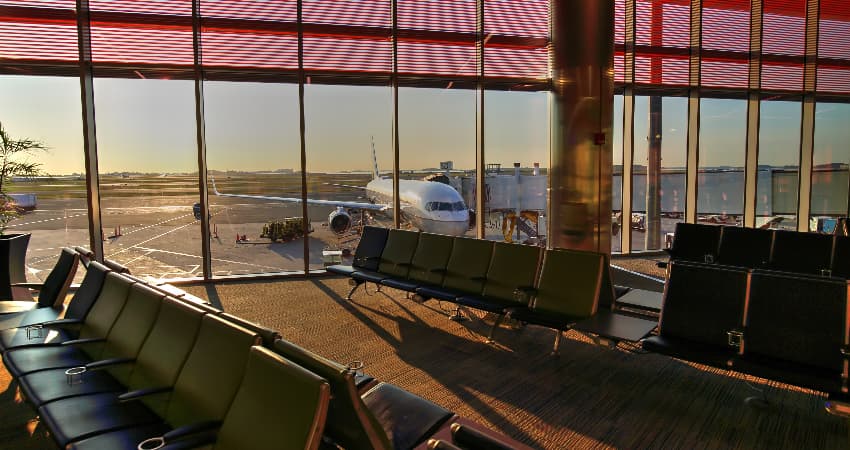 Logan International Airport (KBOS)
Address: Boston, MA 02128
When most folks talk about flying into or out of Boston, they are more than likely referring to Boston Logan. As the busiest airport in the Northeast (excluding the NYC area) and the area's major international air hub, KBOS offers nonstop services to destinations throughout North and South America, Asia, Europe, and the Caribbean. It acts as the operating base for JetBlue but is also serviced by most major domestic and many international airlines, from Air Canada to Virgin Atlantic and many in-between.
In terms of layout, Boston Logan is relatively easy to navigate thanks to its hub-and-spoke design. Its four terminals—A, B, C, and E—are all accessible by the Central Parking Garage at the center of the complex, and all the ticketing and security gates are within walking distance of each other for easy mobility.
Food
As the Boston area's most popular and frequented airport, it stands to reason that it offers the greatest variety of food options. There are dozens of places to grab some grub or a drink that caters to a wide range of tastes, budgets, and timeframes—from Dunkin' Donuts (New England's beloved) to sit-down steak and cocktail places like Legal's Test Kitchen.
Here are some of the top flyer-favorite places to eat in Boston logan:
Berkshire Farms Market — Looking for last-minute "only in Boston" goodies for your friends back home? This grab-and-go spot features all sorts of locally made products from western Massachusetts and local Boston treats, like the breakfast pastries from South End Buttery.
Lucca — This satellite location of an acclaimed Italian restaurant of the same name in North End and Back Bay offers cozy bistro ambiance and signature dishes like rigatoni with wild boar and pappardelle with bolognese.
Kelly's Roast Beef — If you're flying into Boston and want a sneak preview of some of the city's most popular dishes, this is your stop. This local chain specializes in North Shore-style roast beef sandwiches, lobster rolls, and other comforting seafood plates.
Services
Aside from nonstop international flights and some good food, Boston Logan offers flyers a range of comforts to make their airport experience less stressful—including an in-house hair salon in Terminal C and multiple kids' play areas, nursing rooms, and pet relief centers throughout the post-security facilities.
Accessibility
Boston Logan International provides many of the basic accessibility services required to allow all travelers to make the most of their airport experience. All terminals have accessible and family restrooms, and service animals are always welcome here. And while every terminal has two floors, ramps and elevators are easy to locate in each and provide signage in Braille.
For more accessibility information, like the distance between the curb and ticket counters of every terminal, check out the Massachusetts Port Authority's official website for the airport
Parking
Like we mentioned before, all terminals are within easy walking distance of the large parking garage at the center of Boston Logan. Both economy parking and long-term parking are located closest to Terminal E, and all terminals offer designated motorcoach drop-off/pick-up zones near the baggage claim exits.
Boston Logan also offers a free cell phone lot for those awaiting arrivals, located five minutes away from most terminals. Just have your bus driver follow the signage along Hotel Drive and Service Road, and it should be simple enough to find. Keep in mind that there are no concessions or restroom facilities available in the lot—so you may want to secure a bus with an onboard restroom if you suspect your driver will be waiting long.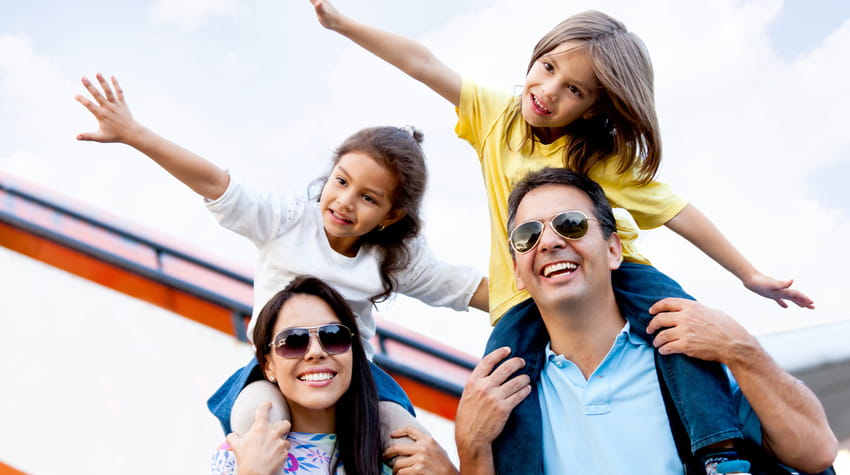 Worcester Regional Airport (KORH)
Address: 375 Airport Dr, Worcester, MA 01602
Perhaps less-known than its inner-city counterpart, Worcester Regional Airport is a Central Massachusetts transportation hub located an hour west of Boston, offering domestic flight options through American Airlines, Delta, and JetBlue.
Since it is a smaller airport, your group may have better success snagging a cheaper flight through KORH—especially if you're looking for a quick non-stop throughout the Northeast or a simple transfer to JFK in New York City. And while the airport is a smaller facility (and therefore has a more limited range of flight options on any given day), sparser crowds make check-in and security lines a breeze compared to Boston Logan.
Food
Worcester Regional Airport is home to two convenience stores (one before security, one after) operated by Mirage Express. There, flyers can pick up made-to-order sandwiches, pizza, hotdogs, non-alcoholic beverages, and other sundries like toiletries and magazines.
Services
Beyond commercial flights, this airport also offers one of the closest access to air freight services, ground handling, and private plane facilities to Boston—an added perk for Boston businesses that want to skip the hustle and bustle of Boston Logan's air traffic.
Within the terminal, your group can enjoy amenities such as free WiFi and comfy seating near the airport's four gates.
Accessibility
The distance between the outside sidewalk and the ticket counter is 65 feet, and all entrances to the complex include ramps. Luggage carts are available, as well as accessible restrooms and Braille signage throughout the building.
Parking
Considering this airport is a small one, the parking situation is uncomplicated compared to larger air hubs. There is no cell phone lot on the grounds, but your airport shuttle driver should have no problem finding ample parking in the lot adjacent to the terminal before your flight is scheduled to land.
Prep for Your Boston Flight Today
Ready for take-off? Even if you have a few details left to nail down, give Boston Charter Bus Company a call at 617-314-7577 if you're traveling with 10 or more passengers and want a stress-free airport transfer service.
Our 24/7 team is always ready to help you find the perfect minibus or charter bus rental for your Boston airport travels—whether you're looking to impress your VIPs with a private pick-up service or need to transfer stranded air passengers in the case of an emergency. We offer custom bus rentals for groups of all sizes and make-ups, so we'd be happy to offer your flyers a free and personalized quote tailored to their ground transportation needs!
Do you need to rent a charter bus?